Bill Castle
Posts by Bill Castle
Getty Images
The hotel guest probably never knew what hit him. When he tried to get online using his five-star hotel's WiFi network, he got a pop-up alerting him to a new Adobe software update. When he clicked to accept the download, he got a malicious executable instead.
What he didn't know was that the sophisticated attackers who targeted him had been lurking on the hotel's network for days waiting for him to check in. They uploaded their malware to the hotel's server days before his arrival, then deleted it from the hotel network days after he left.
That's the conclusion reached by researchers at Kaspersky Lab and the third-party company that manages the WiFi network of the unidentified hotel where the guest stayed, located somewhere in Asia. Kaspersky says the attackers have been active for at least seven years, conducting surgical strikes against targeted guests at other luxury hotels in Asia as well as infecting victims via spear-phishing attacks and P2P networks
A critical vulnerability in the command-line interpreter for most Linux and Unix distributions, and that impacts Apple Mac OS X systems, is being actively targeted in the wild, according to security experts who are urging IT administrators to deploy patches to repair the dangerous weakness.
The GNU Bash shell vulnerability enables a remote attacker to execute malicious code when the command-line interpreter is invoked, and can be targeted in a variety of systems and devices that run Linux. Solution providers told CRN that their systems are already identifying attempts to probe client systems for exposure to it. Exploit code has been added to the Metasploit attack toolkit, a sure sign that cybercriminals could attempt to gain access to sensitive systems to launch a denial-of-service attack, bringing applications to a halt, experts said.
Security industry experts are warning that the risk posed by the dangerous threat exceeds theHeartbleed vulnerability, which, when made public, touched off a flurry of patching activity. Heartbleed exploits hundreds of thousands of servers, networking gear and other devices and puts the account credentials at risk to millions of users.
[Related: Shellshock Bug Has Partners Bracing For Impact]
The Bash shell vulnerability, also being called Shellshock, may pale in comparison due to how widespread the command-line interpreter is in Linux systems, said Rob Kraus, director of research at Omaha, Neb.-based managed security services provider Solutionary, a subsidiary of NTT Group.
"Because of the long history of Bash and how ingrained it is in almost every version of Unix and Linux that is out there, the exploitable footprint is very large," Kraus told CRN. "This is just another potential avenue for inclusion in exploit kits, and organizations need to make sure that they have a firm handle on patch management process and patch management techniques."
Bash can be called from other programs, including network vectors such as CGI, SSH and DHCP, according to the U.S. Computer Emergency Readiness Team, which issued an advisory Wednesday about the threat.
Major Linux distributions, including Red Hat, are beginning to issue patches to users, but early versions may not be fully vetted. Red Hat acknowledged in an advisory update that the patch was incomplete. Kraus said all solution providers are likely testing and deploying patches for impacted systems, as well as implementing detection signatures to identify any attacks in progress.
Intrusion prevention systems and next-generation firewalls can and should be updated with signatures to detect and block the threat, according to Martin Lee, a security analyst at Cisco Systems. Cisco and other firms are detecting attacks in the wild, Lee said in a blog post. Once exploited, the vulnerability gives attackers the ability to execute malware and conduct just about any kind of attack, including pivoting to other sensitive systems to steal data or denial-of-service attacks, Lee said.
"We have observed exploitation of the vulnerability in the wild," Lee said. "We have indications that at least some of this activity is due to an automated malicious attack seeking to install DDoS tools on affected systems. However, due to the nature of this vulnerability, almost any tool or malware sample can be downloaded and executed."
Andy Ellis, chief security officer at Cambridge, Mass.-based web content delivery giant Akamai, said his company was implementing patches and other measures to address the risk. In a blog post, Ellis said the widespread vulnerability poses a challenge for administrators because it could potentially impact so many systems and applications.
"As Bash is a common shell for evaluating and executing commands from other programs, this vulnerability may affect many applications that evaluate user input, and call other applications via a shell," Ellis said. "The new vulnerability presents an unusually complex threat landscape as it is an industrywide risk."
PUBLISHED SEPT. 25, 2014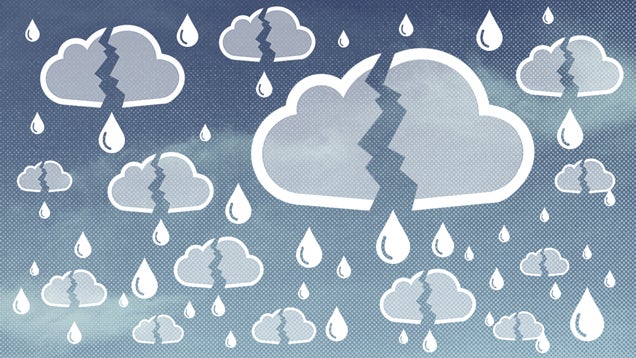 Two years ago ago, tech writer Mat Honan wrote a blockbuster story for Wired, describing how a child got into his iCloud account and briefly ruined his life. You may have heard that the same thing recently happened to some very famous women, almost certainly using the same method. Apple is making it easy for you to be next. More >
By: Geoffrey A. Fowler – July 15, 2014 9:05 p.m. ET
Like many of you, I've been considering cutting the cord on cable TV.
Today about 19% of American TV households live without cable, according to market research firm GfK. Many holdouts are haunted by doubts: How will I watch live sports? Without HBO, how will I know why everyone is talking about some mother of dragons?
Going without cable—or at least with considerably less of it—is easier than you think. Last week, I sliced my bill from $212 to $75 without giving up the stuff I really watch. Yes, cable and satellite companies lock away some content for subscribers. But you don't have to be an online pirate to see what you want. More >
According to the latest industry figures reported today (July 9, 2014) by IDC and Gartner, Lenovo is the clear global leader in PCs for the 6th straight quarter.
 
In reporting shipments for 2Q 2014, IDC said Lenovo achieved 19.6% global PC market share, up 1.9 points from 17.7% in Q1.  Lenovo more than doubled its lead on HP, the number 2 player (from .5 points to 1.3 points).  The company grew 15.1%, still the fastest among the top 5 manufacturers, even though the market declined -1.7%, according to IDC.  In the US, IDC reported that Lenovo strengthened its number 3 position, climbing to 11.5%, and increasing its lead over Apple from just .1 points to 1.5 points.  This performance added up to more than 15.5 million shipments (using IDC numbers) for the quarter.
Security analysts have detected a new strain of malware based heavily on the Gameover ZeuS, which infected users' computers and joined them up to a massive botnet. That botnet, in turn, specifically was designed to steal banking passwords on Windows machines.
The revival comes just six weeks after American authoritiesannounced a global takedown of the botnet earlier this year. Prosecutors say Gameover ZeuS' masterminds have stolen more than $100 million as a result. More >
By Herb Weisbaum Published: Apr 24, 2014 at 11:06 AM PDT
You've been hearing the advice for a couple of weeks now: You need to change the passwords on all of your accounts. They could have been compromised because of the Heartbleed bug.
And when you do that, come up with passwords that are hard to crack.
The folks at Bit9 estimate that a hacker can guess a password that is eight, all lower case characters in about 3.5 minutes. Change just one of those lowercase characters to uppercase and that can make a big difference.
"It doesn't have to be the first one or last one, it can be any uppercase character in there," said Bit9's Mike Viscuso. "And the time it takes to an attacker increases from three minutes to 15 hours.  And if you have an uppercase character and a special character, like an @ or !, that goes to 70 days."
If you're like me, you have lots and lots of passwords. It might be time to get a password manager. Some of them are free. Load everything in and all you have to remember is one password.
Read on: http://www.pcmag.com/article2/0,2817,2407168,00.asp